Let's start by assuming the elephants in the room. Writers like Bill Bryson and Anthony Bourdain are terrific. I try to bring at least one of their books on every trip just to get the blood pumping. Picking up Neither Here nor There is enough to inspire the would-be vagabond in all of us.
But there are plenty of other great writers who haven't (yet) made quite as many front pages. Here are a few of my favorites who might fly a little below the radar, but I recommend picking them up no matter what the trip.
For a guy who opens his book by telling you all about how he's an editor, not a writer, Adams sure can tell a whiz-bang terrific travelogue. In Turn Right at Machu Picchu Adams weaves a fun and witty adventure tale about the original discovery of Machu Picchu into his own journey following the Inca Trail. The style is similar to The Lost City of Z and just as successful. I picked this book up years ago while looking for an adventure antidote to an ill-advised screening of The Crystal Skull. It did not disappoint.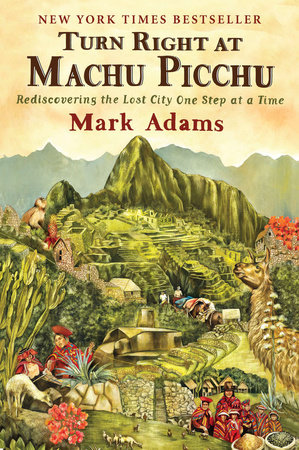 He followed that up with Meet Me In Atlantis, the story of one man's quest for the legendary lost city. An educational, insightful read that bounces happily around the Mediterranean, the only question is what Adams is working on next.
This guy is gunning for Bryson's throne. Someday the hipsters will be saying they discovered Troost before he was cool.
J. Maarten Troost has written several books by now, all crisp, engaging and often hilarious. His debut book The Sex Lives of Cannibals talks about his life in the island nation of Kiribati. It achieves what the best travel writing aspires to, telling a great story about an often-forgotten part of the world.
After that move on to Headhunters on My Doorstep, accurately billed as "a true treasure island ghost story." Then there's his Lost on Planet China and Getting Stoned With Savages, the former which has pulled some heat for his often critical take on China (which makes it even more valuable as a read).
The best travel writing has a sense of heart and a sense of humor. It knows not to take itself too seriously and cuts through what is easily a pretentious genre to what travel is supposed to be: fun. Troost gets this.
A few of my favorite travel writers are one hit wonders. So it is with Tom Kohnstamm. He writes, as I understand it, for Lonely Planet and some magazines but has only the one book under his belt: the superlative Do Travel Writers Go To Hell?
But what a book! DTWGtH is one man's journey across Brazil while trying to write a guidebook under conditions that can generously be called "challenging." It's clever and it's funny, but above all else it's sincere. Anyone who has spent time overseas trying to hold the lid on some ridiculous project will wince in sympathy at the all-to familiar moments, including that inevitable rock-bottom afternoon spent blowing money you don't have on booze and wondering "what the hell have I gotten myself into?"
Also accurate? Signing back up to do it all over again.
Anyone who decides to take a yearlong tour of the world's worst places deserves a shout out. Including Disney World on the list, as Thompson did in To Hellholes and Back, is simply brilliant.
This book is reminiscent of Tony Wheeler's Badlands but with much more of an edge. Thompson isn't afraid to editorialize about his destinations and he does so with happy abandon. If Badlands has journalistic spirit of a beat reporter, To Hellholes is her college intern's blog along the way: sharp, irreverent and insightful.
Thomas' body of work in general isn't without some criticism. Often when he veers onto politics or social commentary it feels less thoughtful and more like an angry rant. Overall, though, Thompson writes good, interesting books that will keep your feet moving in the right direction.
Peters' Naked in Dangerous Places chronicles one man's adventures as he tries to make a semi-low budget travel show under the worst of circumstances. Most notable is the chapter where Peters finds himself stranded overnight in London with no cash, credit or resources, just the contents of his pockets. Trying to make his way around the city not only does Cash realize that he is completely screwed but that this is the exact premise of his show.
Terrific.
Five authors seem enough to be getting on with. These are the books I don't just like, I pull them off my shelf time and time again to flip through when I need inspiration between trips. I recommend each and every one of them.
Eric Reed may be the only living travel writer who's afraid to fly. A freelance journalist, reformed lawyer and accidental expert on economic policy, he launched Things Dangerous as a place to tell the ups and downs of a beat writer's life on the road.