Bangkok is a popular spot for overnight layovers. With planes coming in from both sides of the Pacific, sometime flights that have lasted nearly an entire day, travelers often find themselves with a lot of time on their hands. Fortunately, in Bangkok the city is fairly close, and an entire night is plenty of time to make it downtown and back. The question is, what is there to do overnight in Bangkok?
Quite a lot.
I found this out myself on the middle leg of a flight from Phnom Penh to New York. Although Suvarnabhumi Airport is absolutely wonderful, as far as terminals go, that only gets you so far. So, for everyone who comes after me, here are some suggestions for spending an unexpected night in the capitol of Thailand.
10:30 – Khao San Road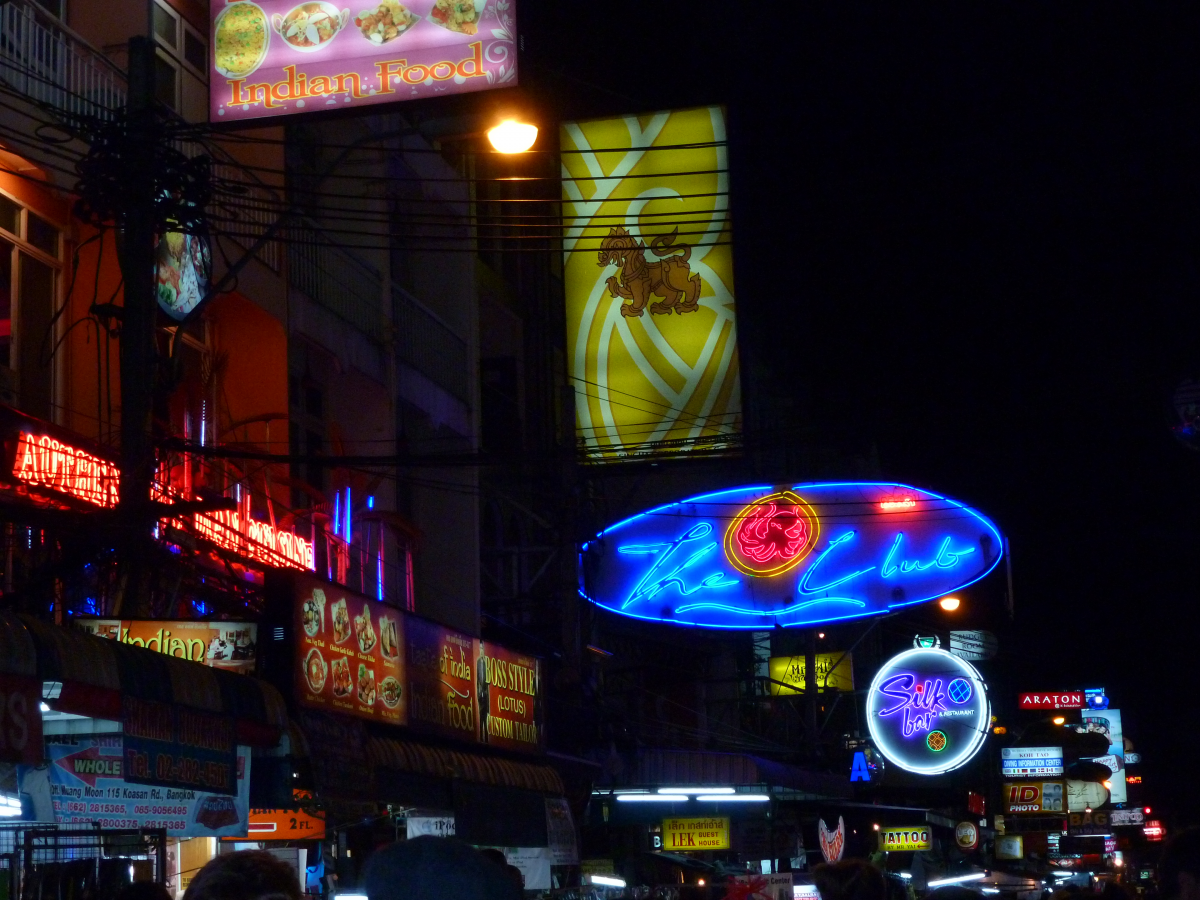 First thing's first, head to Khao San Road for some food, and make sure your cab driver turns on his meter. Remember this for the rest of the night, because in Thailand it is very important. Many cab drivers will try to negotiate their price up front. There is never any circumstance where the price they quote is less than it will say on the meter.
Khao San Road is what happens when generations of backpackers create a paradise of their choosing. It's Never-Never Land with a cash bar and Captain Hook's on the take. Many people complain that Khao San isn't the real Thailand, and they're absolutely right. It isn't the real anywhere. Or maybe it's the real itself and that's the point. Happily this international playground of hotels and bars stays open long after the rest of Bangkok has gone to bed, and even late at night you can still get a good meal.
In Bangkok you want to find your food on the street. This city is famous for its food carts and justifiably so; some people here can accomplish more with a wok and butane than most other cooks can with million dollar kitchen sets. Stalls run up both sides of the street dedicated to just about every type of food the world over. From smoothies to currywurst (a type of sausage, it turns out, served with a heavy curry sauce), the options are spectacular. For some local flavor, however, I recommend the eponymous Pad Thai.
Around Bangkok, fried noodle carts are the equivalent to a hot dog vendor in Manhattan. Some have elevated it to an art form, while others start the fire, throw on the noodles and call it a day. Skip the ones with identical signs hanging in front. By the time a food cart has franchised it loses the personality that drives quality, and you only have one chance to get this right.
On my visit I found the perfect noodle cart tucked away behind two bootleg DVD vendors, where a woman stood over her wok, a menu all in Thai and several small, colorful, crowded tables. The noodles were incredible, slightly spicy and garnished with peanuts and lime. Small pots scattered around the tables held chili oil, crushed peppers and white sugar in case the noodles had too much fish sauce.
Of course, don't miss your opportunity to explore the lights, sounds and spectacle of Khao San Road either. It will take a while, but is well worth a look.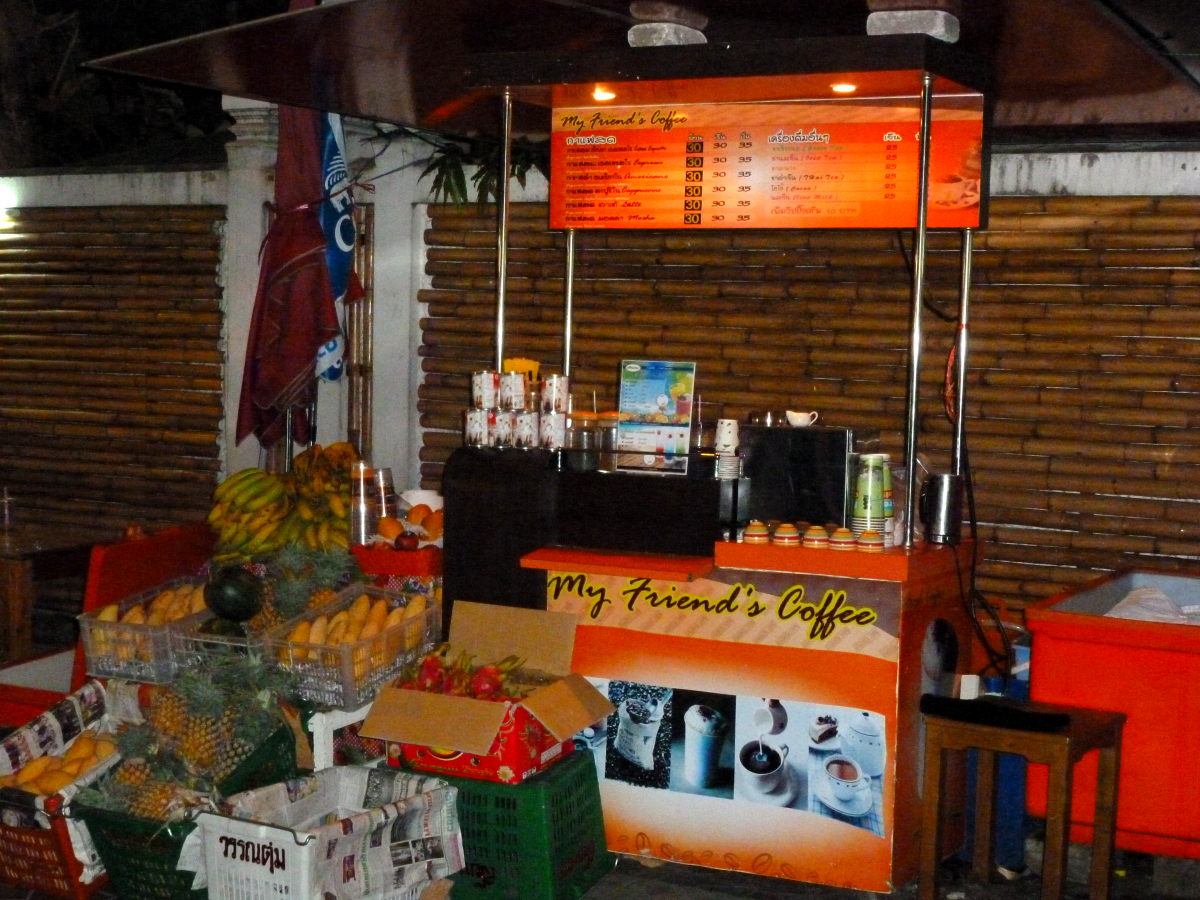 12:00 – Last Call at Cheap Charlie's
Cheap Charlie's is an iconic expat bar in downtown Bangkok where the hardcore expats hang. Decorated with memorabilia collected over three decades, the place looks like a swap meet collided with a liquor store. Some of clutter tacked around the bar includes license plates from all 50 U.S. states, running model trains and what appeared to be a giant buffalo skull. The place itself is entirely outdoors, one long bar with a small awning just in case of rain.
True to its name, Cheap Charlie's is also dirt cheap. At 70 baht for a beer, just over $2 U.S., this is one of the better deals in town. It's no pint of 50 cent Cambodian lager, but it's a good deal for Thailand and you'll be surrounded by the city's colorful expatriate scene while you drink. Make a few friends while you're there; people come to Thailand for interesting reasons, and most people at Cheap Charlie's have a good story to tell.
Closing time is officially early. Like much of Bangkok, the bar shuts down around midnight. While some nights go later than others, don't count on catching last call if you show up much after 12:00, although it's certainly a nice bonus if you do.
1:30 – Silom Road
Most of Bangkok lives by a surprisingly strict curfew. Despite its reputation for hedonistic, anything-goes mayhem, much of this city closes its doors at midnight. Those movies happen in a few scattered neighborhoods, such as places like Silom Road where the reality sets in that, in Bangkok, absolutely anything goes if you know where to look for it.
By day Silom is a financial district, a long row of tall buildings with the occasional Starbucks along the way. That works very well for me, admittedly, considering how much I like their coffee. By nightfall the road, and its side streets, turn over to bars, strip clubs and some of the most spectacular acts of physiological creativity on the planet Earth.
It's a great place to spend a few late hours in Bangkok. While seedy, the bars on Silom Road are also loud, colorful and a lot of fun to watch. It hasn't been a true trip to Bangkok until someone has tried to lure you into one of the city's infamous ping pong shows by standing on a corner making pop-pop noises with his mouth. In fact, some people would argue that it hasn't been a true trip to Bangkok until you've actually gone in to see the show, but I'll leave that up to you.
Silom also hosts the Patpong night market. Around the time you've wrapped up at Cheap Charlie's it will start shutting, so head there first. By 1:30 in the morning the Patpong market will still have enough stalls up to make it worth a walk but definitely don't buy anything. Night markets in Thailand are always fun, but at this one the products are lousy and the prices extreme. You'd be better off just buying stuff at the airport.
3:30 – The Palace Lights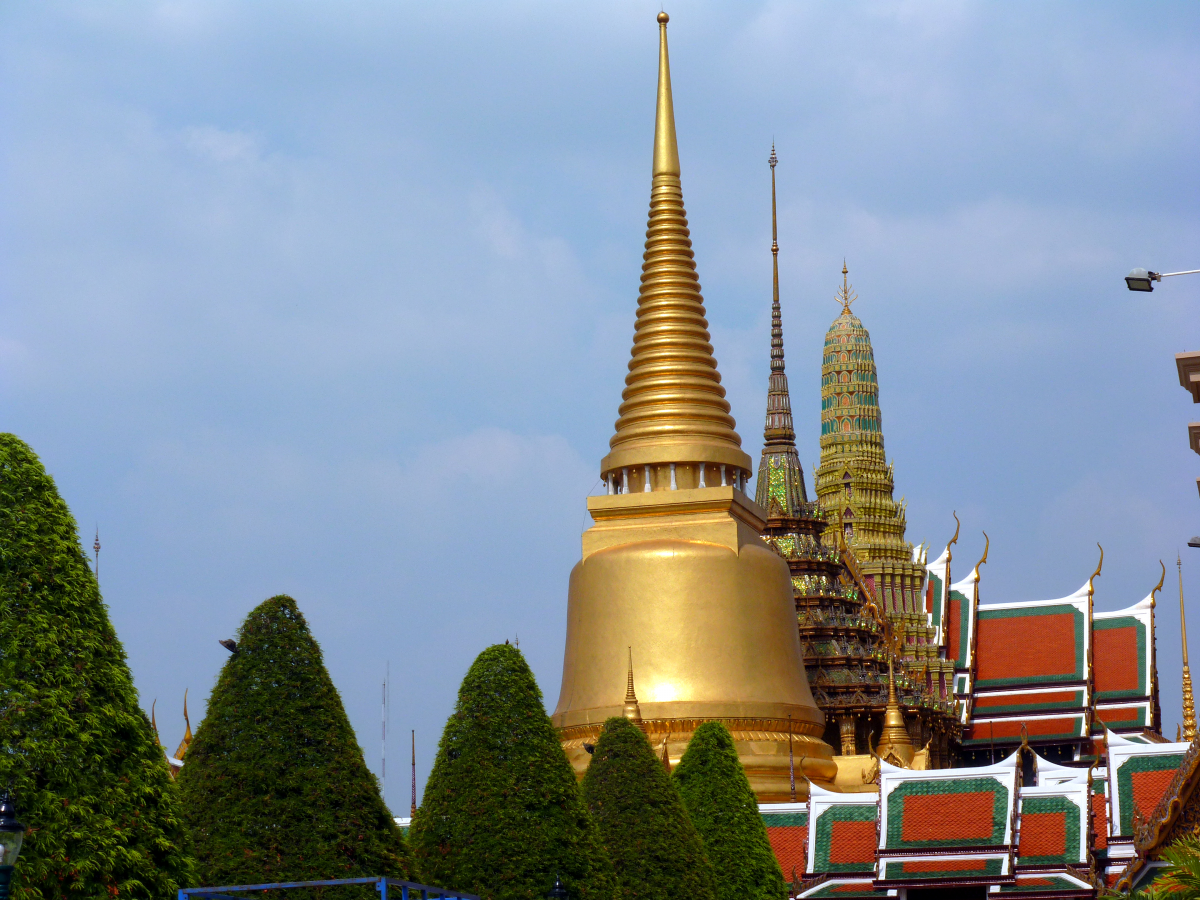 Bangkok's Grand Palace and adjoining Temple of the Emerald Buddha is a series of buildings at the spiritual, if not physical, heart of Bangkok. Not far from where you started your night on Khao San Road, the palace closes at 5:00 so there'll be no getting inside tonight. After dark, though they turn on the lights, creating a spectacular display that's almost as good as taking a tour.
Hop in a taxi or better, if oddly more expensive, a tuk tuk and take a tour to see the lights. Have your driver stop so you can get some good pictures, because they are out and out spectacular.
I'd say more, but there's little to add and I wouldn't trust myself to do so. You'll understand when you get there.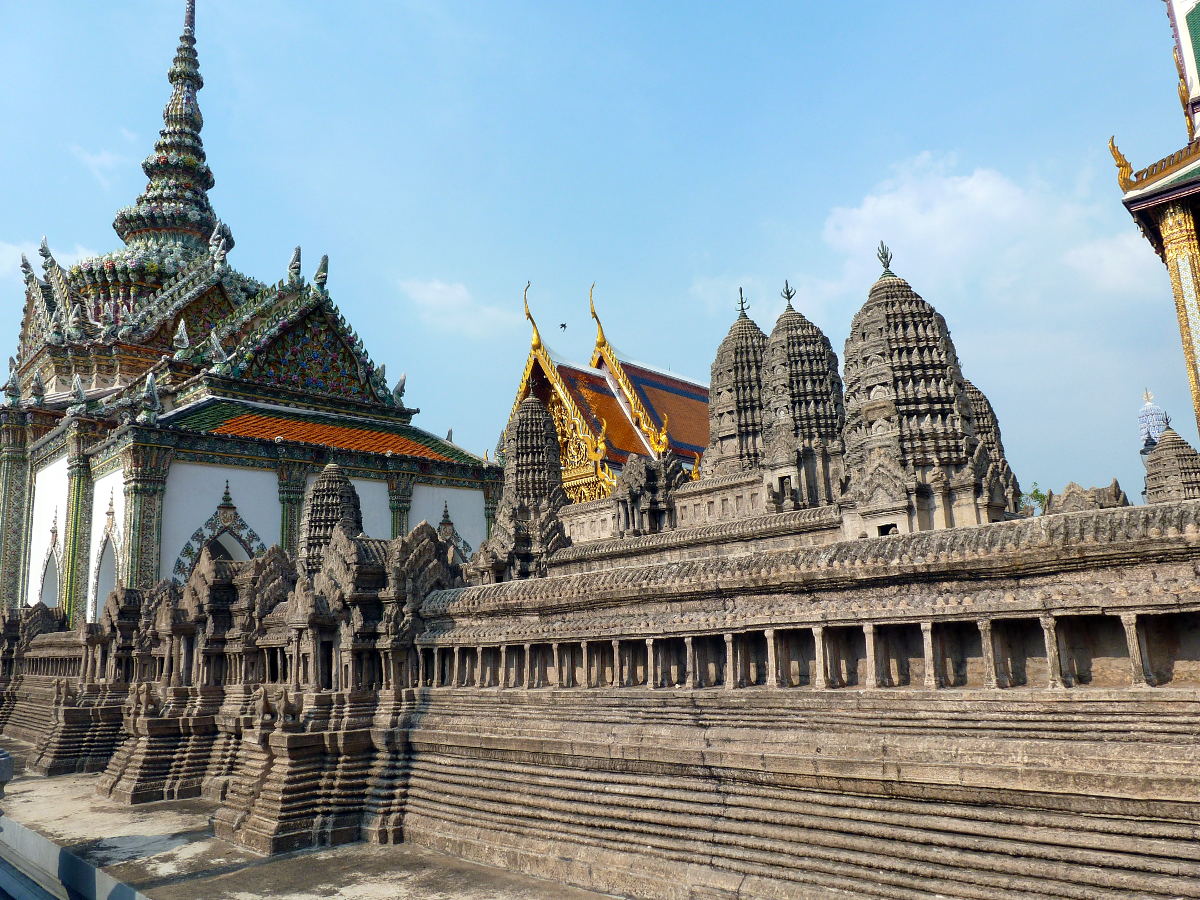 4:00 – The 7-11
One last stop.
Nothing is as common as a Bangkok 7-11, and they're generally open 24 hours a day. Swing by the nearest one to pick up a drink or some snacks before your flight. It'll save you money at the airport and it's a truly, quintessentially Thai experience. (Trust me.)
Eric Reed may be the only living travel writer who's afraid to fly. A freelance journalist, reformed lawyer and accidental expert on economic policy, he launched Things Dangerous as a place to tell the ups and downs of a beat writer's life on the road.